Kentucky
Kentucky does not yet have charter schools, but the bill to allow privatizers access to our public funds just passed this last session. Now regulations are currently being written.
In December of 2015, Governor Bevin told an audience in West Louisville that he plans to bring charter schools to Louisville, and he wants to "start in the West End." In another recent article, he said he wants charters to take over schools that have been persistently low achieving for generations.
"Competition is healthy and good," Bevin said. "Let's start with public charter schools. Let's start with those failing schools in Jefferson County and Fayette County, among others, and primarily in those counties, where you have two and three, and now even four generations of failing schools."
This Op-Ed from New Orleans teacher Annalee Abell, informed Gov. Bevin, "Charter schools are not the answer." This unanswered December letter to Matt Bevin from Louisville parent, Heather Harrell, outlined her concerns regarding potential dangers with poorly written charter school legislation.
Of the seven states that still do not have charters, Kentucky is by far the largest. With nearly 700,000 students in public schools, they are more than twice the size of the next largest non-charter school district. They represent a budget of $6.3 Billion. Just two of the 194 districts, Louisville and Lexington, make up about 140,000 of those students, or 20% of the state's dollars. It's no wonder privatizers have their sights set on Kentucky schools, starting with Jefferson and Fayette counties.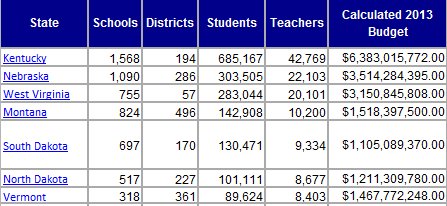 The narrative we all keep hearing is that Kentucky schools are failing. That they rank near the bottom compared to other states. Actually, they rank 29th, according to this report in Education Weekly. Not as bad as the reformers would have you believe, is it?