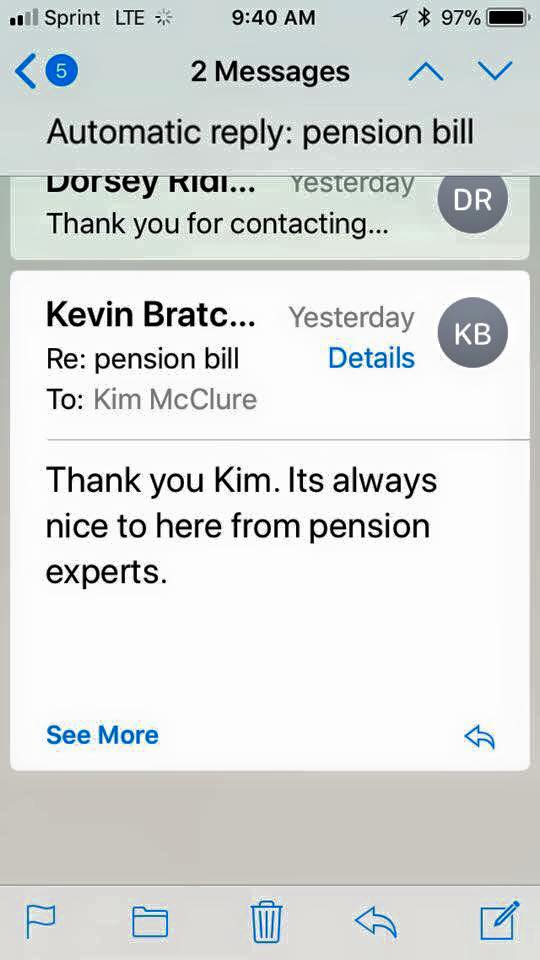 Tacky Responses To Voting and Taxpaying Members of The Commonwealth
This story will be updated as more examples become available. Send your screenshots to moderator@saveourschoolsky.org.
It seems some of the legislators that we elected to serve us believe that is is also okay to demean and belittle us. Some recent examples have come to our attention, so we wanted to share them here, so you can make a more informed decision during the 2018 election. Perhaps, you might even consider running against them. We could definitely use more people who understand the real issues facing educators sitting on the committees in the general assembly. And even if not all of them win, at least they can participate in debates with these characters during the election cycle.
Senator Danny Carroll, District 2 (Padukah), who is up for reelection in 2018, doesn't seem to care for our daily emails, even though the threats to our Commonwealth seem to compound daily. His email address is danny.carroll@lrc.ky.gov. You know what to do.
With a special session looming, KY teachers continue to contact state reps. Unfortunately, they continue to receive less than understanding responses like this one from rep @dannycarrollky.@BadassTeachersA @DianeRavitch #TBATs pic.twitter.com/6Puwd9tZ73

— Kentucky BATs (@KentuckyBATs) November 26, 2017
DJ Johnson, a man of obvious privilege who serves in District 13 (Daviess county) expects teachers to only contact them about their retirement concerns on non-holidays. I guess he expects them to email him during the school day, when they're you know, teaching. Or maybe AFTER the bill has been introduced. That's always productive.
With their retirement futures on the line, you're damn straight they'll be using their break to contact you. Were you expecting them to wait until they're elbow deep in their classroom with 32 middle schoolers, so as not to interfere with your holiday? Or use a hoarded sick day? pic.twitter.com/ddqwhr7tbf

— Gay Adelmann (@GayAdelmann) November 25, 2017
A Few Good Women KY have identified this seat as one that needs a contender. If you know anyone in his district who can help recruit, please contact them.
And then there's Kevin Bratcher, sponsor of the "Neighborhood Schools" and "Blue Lives Matter" bills, likes to insult hardworking teachers with snarky responses by calling them "pension experts". And I suppose you ARE a pension expert, Mr. Bratcher?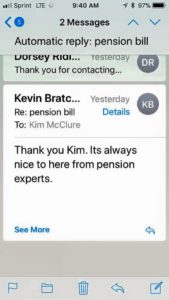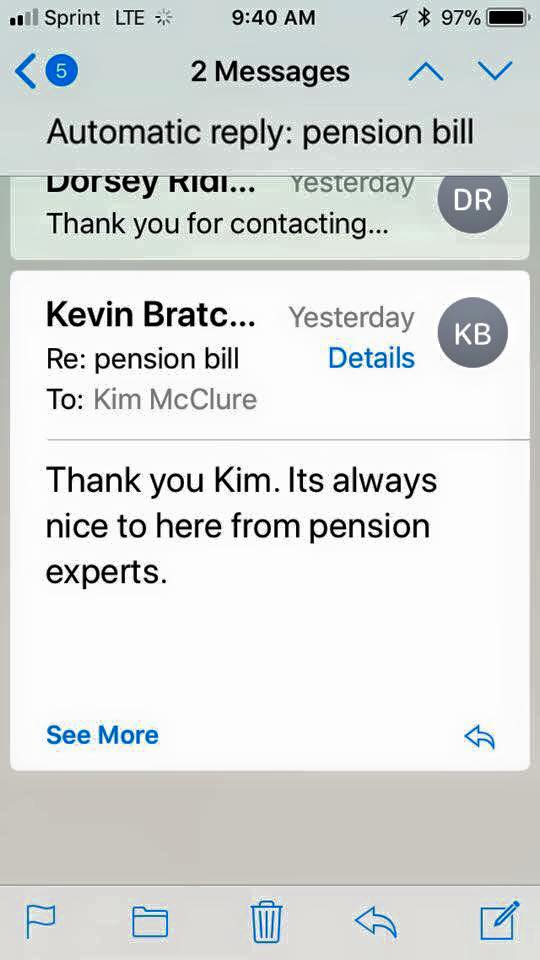 When asked about it on social media, he said he apologized, and also asked "have you never done something on the spur of the moment and later regretted it?" However, we found more than one example of this regrettable response going out. In another reply, which he quickly deleted, he said it wasn't taken as he meant it. So, Kevin, how exactly did you mean it?
He blamed the grammatical errors and typos on his big fingers (again prior to deleting his thread of responses on another teacher's thread). We probably could have let that slide, if he hadn't hit the trifecta of "what not to do when you're up for reelection in 2018" responses. He's the House Majority Whip for district 29 (Jefferson), and will be challenged by Ronel Brown in the upcoming election.
That wasn't the first snarky response from Mr. Bratcher. An earlier string of posts revealed he sent this alarming, misleading and dismissive reply to numerous taxpayers.
Really? Since states can't actually file bankruptcy, is a more honest response, we are trying to pass this obligation down to municipalities so THEY can file bankruptcy? Is that your idea of solving problems?
Perhaps not tacky, so much as disconnected from reality, is this response from Addia Wuchner, District 66 (Boone), assuming that the only people contacting her are pensioners themselves. We hope she got the point.
And of course, our governor can't pass up an opportunity to insult teachers. This time calling one "misinformed," because she doesn't understand his logic that by destroying her pension he's keeping their retirement system alive. He fails to mention that it's on their backs — again.
Oh, look, .@GovMattBevin believes that public school teachers are disgusting, unsophisticated and now "misinformed." pic.twitter.com/8ptlho6ceP

— Attica Woodson Scott (@atticascott) November 24, 2017
Jeff Grammer (who is looking to displace Rep. Jerry Miller in 2018) sums it up nicely here:
@atticascott The Gov has little understanding of the basics of Business & Economics. The pension problem is a "revenue" one, not a "cost" one. Every Entrepreneur knows you cannot cut your way to profitability. https://t.co/JN0EKqc2xm

— Grammer4House (@grammer4house) November 25, 2017
Our governor seems to operate under the philosophy that if you can discredit your victims, you can keep angry mobs from rising up against you. We'll see about that in 2019, won't we?
Send your screenshots to the address above and we will continue to update this story.