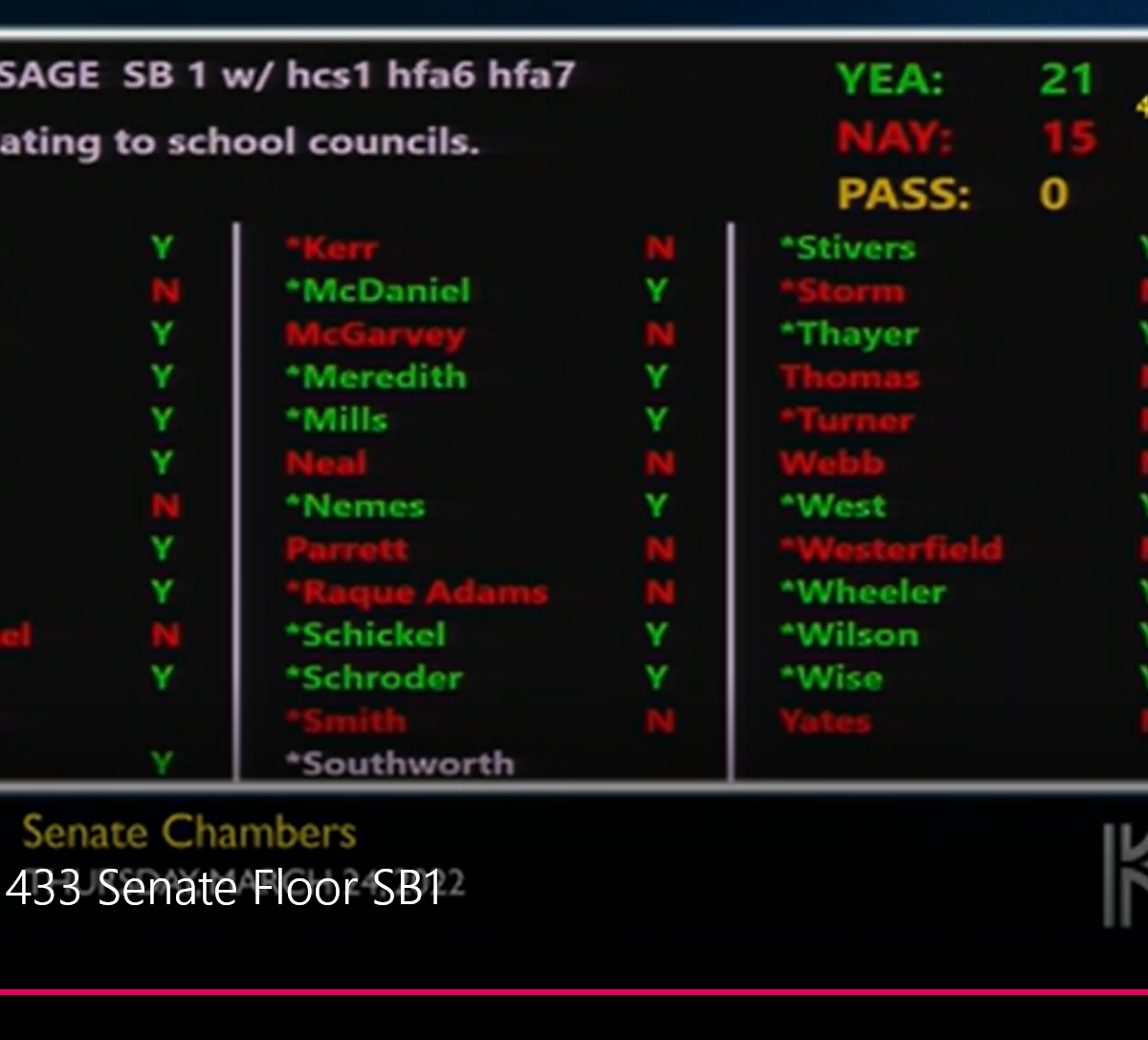 If you blinked at all during the final days of Kentucky's 2022 General Assembly, prior to the 10-day veto period that ends on April 12, you probably missed a bunch of shenanigans. Even if you didn't blink, it was hard to keep up with all the moving parts, behind the scenes deal-making, and unethical maneuvers. One of those shenanigans happened when SB1, the number reserved for the Senate's highest priority bill, became weaponized when it was presented to the House Education Committee with a committee sub that contained even more harmful language than Senator Schickel's original anti-SBDM bill.
SB1 is anti-SBDM, anti-JCPS, and anti-CRT. Is it even legal?
Senator Schickel, a school bus driver in Boone County, says he got the bright idea for this regressive bill about seven years ago, when he heard some parents complaining about something something SBDM. SB1 pretty much eliminates one of the best things to come out of Kentucky's Education Reform Act over 30 years ago, Site Based Decision Making Councils or SBDMs. Instead of encouraging them to address their concerns at the source, he somehow decided the solution was to break what works for everyone else and undermine the local powers that site-based decision making councils have at the school level. Or at least that's how he's explained it, and not that ALEC or some other dark-money financial backer told him to. During his testimony, he frequently references how long this bill has been in progress, without acknowledging that the reason this bill is taking so long to pass is because it's a terrible bill. And in 2022, it became a monster.
SB1 began this legislative session as a 31-page bill that puts the finishing touches on stripping principal selection power away from site based decision making councils (SBDMs), something they have only been able to pull off in Jefferson County so far. It also strips curriculum selection power from SBDMs across the state. They don't advertise this fact, but it's part of the privatizers' plot to have full control over every area where curriculum is selected if they expect to win the anti-CRT assault on education that is taking place all over the country.
The bill came out of the gate early in the session but stalled after the first Senate vote and before returning to the Senate. During that time, the bill morphed into a bill that is equally offensive to parents, teachers, taxpayers, school board members, voters and students alike. Instead of being strictly an anti-SBDM bill, it now includes the anti-CRT language from SB138 and specifically limits how often the JCPS school board can meet. And instead of this law going into effect on July 1, 2022, as originally written, it goes into effect immediately.
Please read this opinion piece from former JCPS School Board member and current Jefferson County House Representative, Lisa Willner:
Access LRC Links here.
It can be difficult to keep up and cull out all of the committee hearings and floor testimonies, so I have tried to compile the most relevant video clips of the testimonies and vote counts as SB1 progressed from Senate Education Committee on 1-6-22, passed the Senate on 1-8-22, and after sitting dormant for two months, suddenly was added to an already packed House Education Committee agenda on 3-22-22, where it flew through both committee meeting and the House Floor that afternoon, and back to the Senate for adoption on 3-24-22. The videos are in chronological order below.
1-6-22 – SB1 Passes out of Senate Education Committee Despite Objections
1-8-22 – SB1 Senate Floor Debate and Vote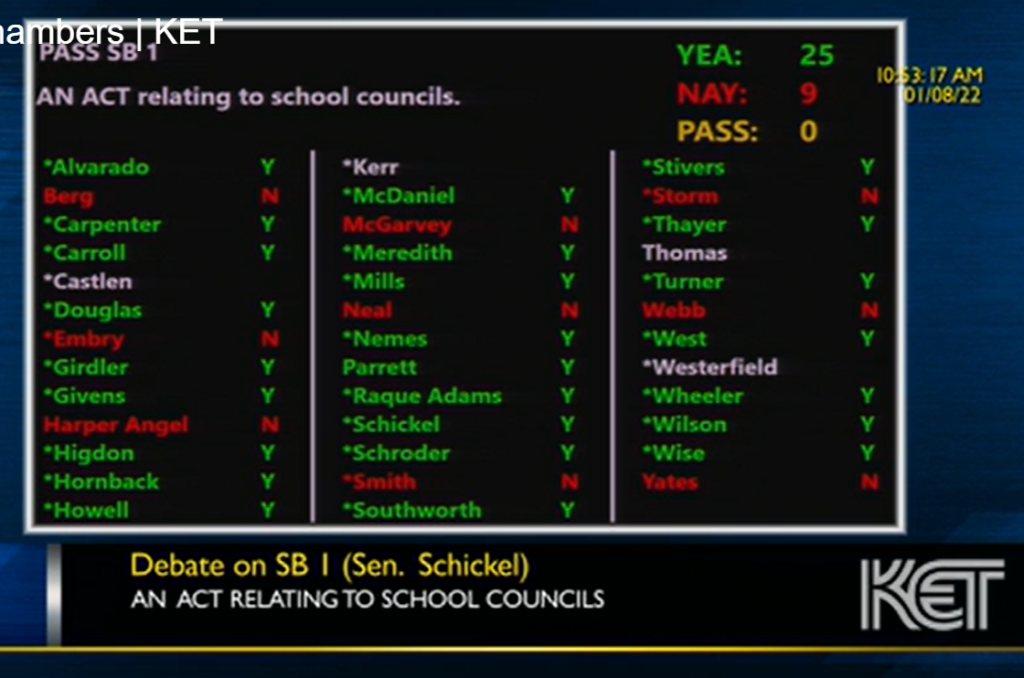 Watch the entire video of the Senate Floor Debate below. Several untruths were spoken about the impact the bill has on SBDMs, and in fact, Julie Raque Adams claims "it works great." My question to her is, "for whom?" I'm sure it works great for the high-ups she rubs elbows with, who view democratic processes as nothing more than a nuisance, but I'm hearing it is NOT working for stakeholders in our most impacted schools. Ask the "advisory only" SBDM members at TJ Middle who picked a Black leader to replace the retiring white principal, but their selection was overridden to name a replacement who had been groomed by the principal and who would continue to uphold the toxic and structurally racist environment at that school, or so I've been told.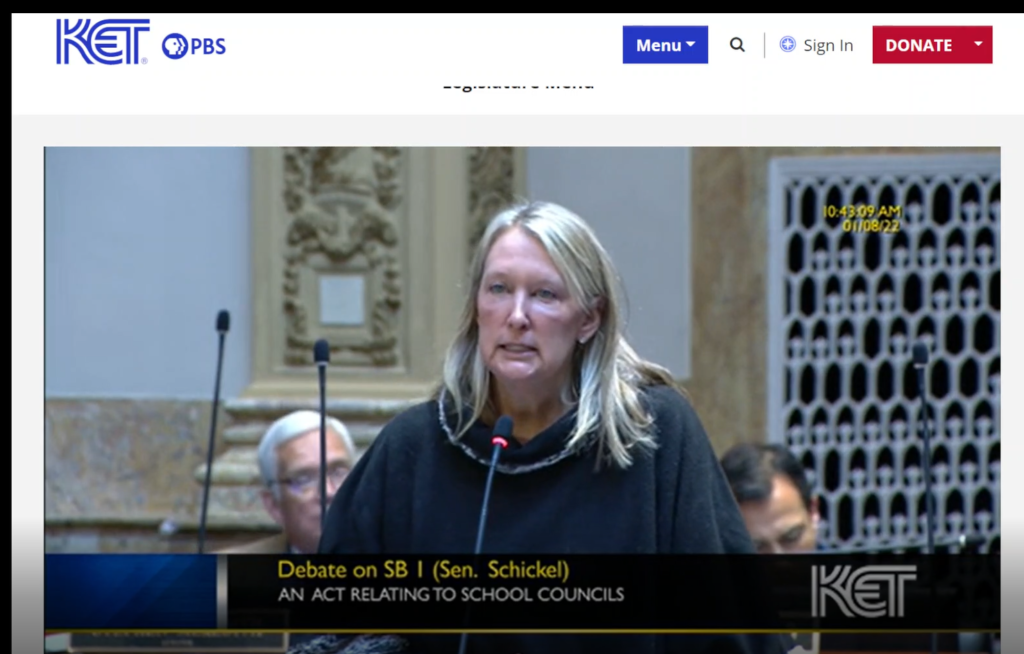 3-22-22 – SB1 Passes Out Of House Education Committee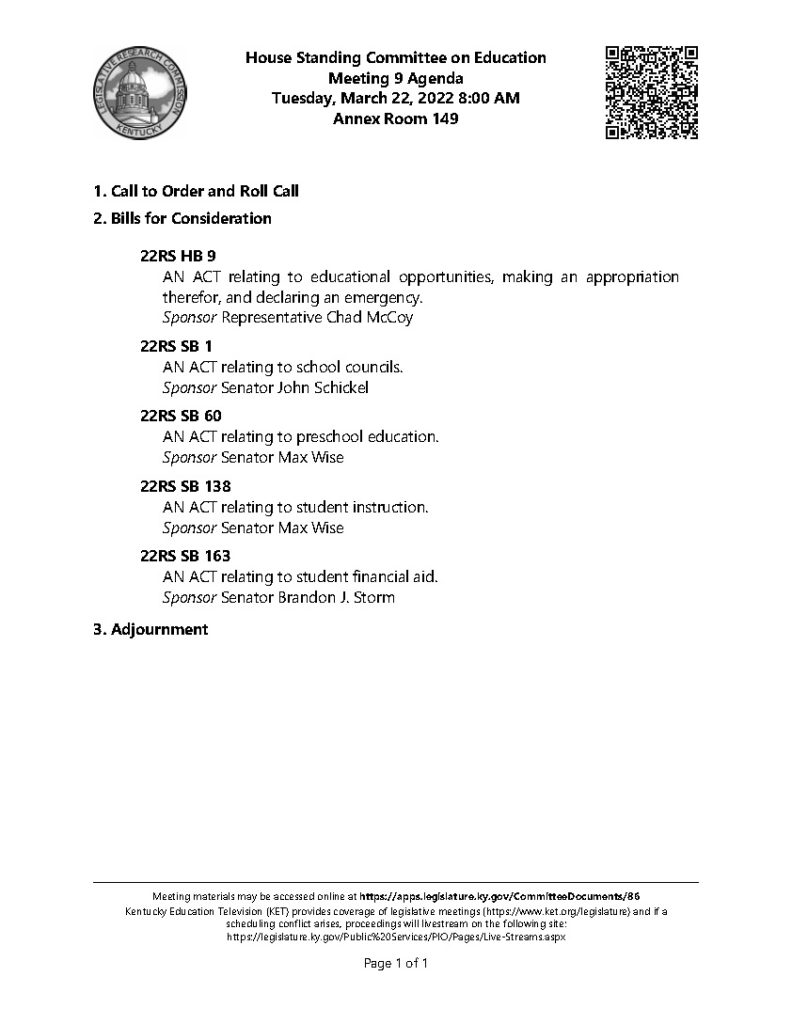 One of those bills was SB138, a "lite" version of the right wing radical anti-CRT bill. The other one was HB9, the wildly unpopular charter school funding bill, which could not muster enough interest to be passed for the previous five sessions, after the toothless (unfunded) charter school language became law in 2017.
In fact, that bill was originally assigned to the House Appropriations and Revenue Committee, and late one night we received word that it was expected on the agenda for their standing Wednesday meeting on March 9. When that meeting was canceled, I made a reference to it when I and some JCPS students and educators showed up in Frankfort to speak, and when the bills we had concerns about weren't on the agenda, we picked a different topic and I told them how we felt about them continuing to bring all these harmful bills instead of asking us what we do need.
I was reminded to "stay on topic," but it laid down an objection that was a harbinger of more things to come. I will go into greater detail how the bill sponsor was rumored to not have sufficient votes to bring the bill out of House A&R, so the House Education Chair, Regina Huff, for who knows what reasons, not only allowed him to bring a bill that she voted "no" on out of her committee before it was ready, but allowed him to replace another member of that committee so it would have enough "yes" votes. Make that make sense. Then everyone who came to speak against any one of the three horrendous bills on the agenda were forced to be brief or were not heard at all, and the bills all passed out of committee, despite overwhelming false or missing supporting evidence, and objection from every sector of the community.
A new 39-page committee substitute was brought forward, which not only contained the already objectionable anti-SBDM language, but also the contents from SB138, the same lite anti-CRT bill mentioned above, as well as restrictions on how often JCPS's elected school board can meet. Rep. Massey claims that "lobbyists" and "someone from Jefferson County" asked him to make these additions but would not say whom, other than at one point mentioning Jason Nemes. Nemes is one of the House's worst offenders when it comes to anti-JCPS legislation, even though he lives in and represents part of Jefferson County. You can read more about our growing list of frustrations with Rep. Jason Nemes here. Watch the House Education Committee discussion below.
3-22-22 – SB1 Passes Kentucky House Floor
Watch the video of the discussions and explanations of House Floor votes in two parts, below.
3-24-22 – SB1's Final passage on the Senate Floor
Two days later, SB1 moved back to the Senate for final passage, and everything terrible in this bill moved forward to the Governor for his signature or veto. The bill was also declared an emergency, which means it will go into effect as soon as it is signed into law, or in this case, as soon as they can override the governor's veto.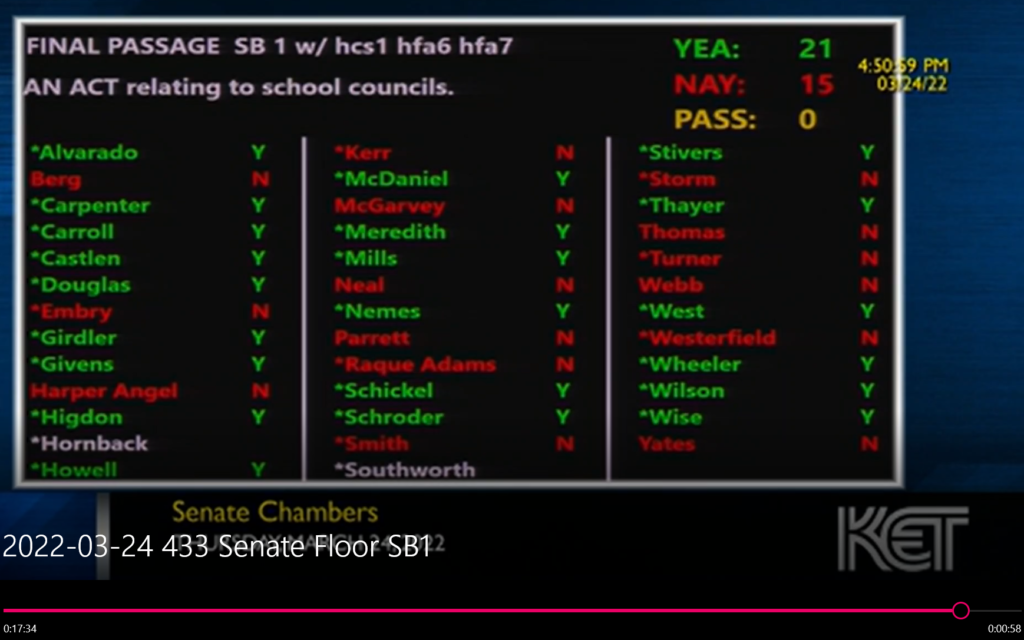 On April 6, 2022, Governor Beshear vetoed SB1, citing not only legal concerns, but how the bill will weaken parent and teacher input into the governing of the school and curriculum, and also how the bill specifically targets JCPS by limiting the frequency with which the district's elected school board can meet.
The Kentucky General Assembly returns Wednesday, April 13 and Thursday, April 14, where they have enough time and votes to overturn the veto. Calling and emailing lawmakers has been fruitless. I would encourage as many people as possible to show up in Frankfort Wednesday morning to pressure lawmakers not to override the vetoes. In some cases, it would only take one vote to stop some of these bills from becoming law. Bring signs, no sticks. Paint your cars. Make some noise.
If these GOP lawmakers still continue down this path, we need to make sure those who live in their districts are aware of the harmful effects of these bills, how their elected officials voted, and who are some better alternatives for the May 17 primary and Nov. 8 general election. To learn more about how you can join in and support these efforts, email us at moderator@saveourschoolsky.org.